Locking payment drop boxes are essential to help tenets and customers pay rent or utility bills without the need to enter an office. Either a wall mounted payment dropbox or a post mounted payment dropbox can be used to avoid direct contact and keeping with Covid 19 separation requirements. Another option to accept rent payments is a through the wall payment dropbox.
Wall mounted payment drop boxes can be securely bolted to most any wall type and will allow businesses to accept rent payments or other types of payments such as utility bills 24 hours a day and 7 days a week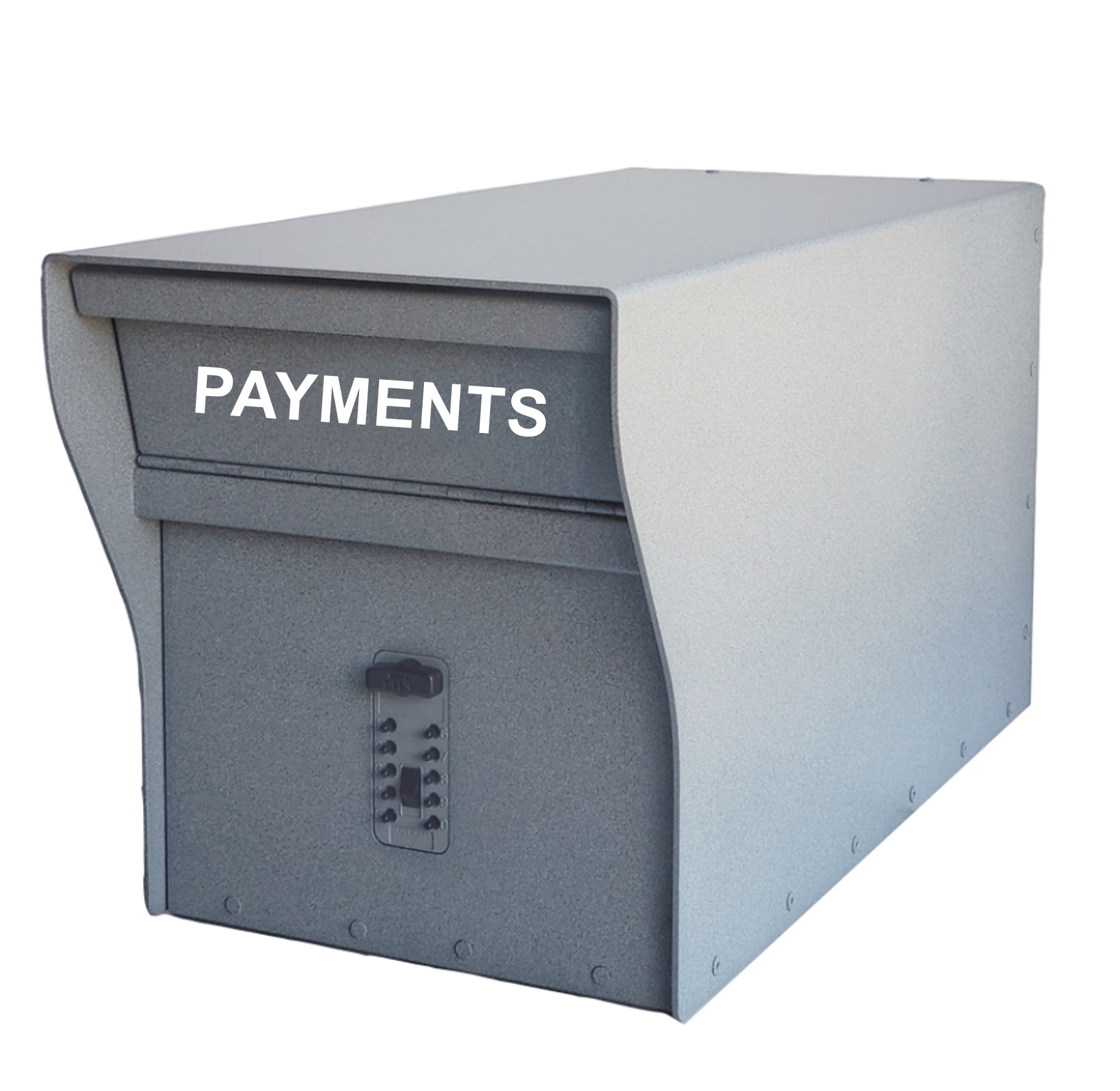 Payment drop boxes with hopper style drop doors work like an anti-phishing device keeping someone from reaching in or phishing envelopes and payments out of the dropbox. A heavy gauge steel is also recommended. Lighter 18 and 20 gauge steel can easily be bent and broken into with the use of a screw driver. Heavier 14 and 12 gauge steel is much thicker and will keep most thieves from easily breaking into and stealing rent checks.
Post mounted locking payment drop boxes can be mounted on either a surface mounted post or an in ground post. A surface mounted post allows you to secure the post to an existing hard surface like a sidewalk or driveway made of cement or asphalt.
Like a wall mounted rent dropbox one which attaches to a post should be made from heavy gauge steel and with a small drop opening which keeps someone from reaching in and taking payments out or with a anti-phishing which helps keeps someone from phishing items back out.
Wall mounted payment drop boxes are typically limited on size however free standing payment drop boxes can range in size from small 10" x 10" x 21" to extra larger units that have 5 to 8 cubic feet of storage capacity. The number of payments deposited before being emptied should be considered to ensure the correct size is chosen before purchasing.
Often times a through the wall payment dropbox is necessary when the highest security level is needed or if there is not place to attached a wall mounted or post mounted dropbox. Both through the door drop boxes and those which go through the wall allow payments to be securely dropped into a locked receptacle or can fall directly into basket placed below the drop door.
A sturdy payment drop box made of steel is necessary to keep rent payments from being stolen. Do not be fooled by cheap big box store inexpensive drop boxes which can be easily broken into. Purchase a Locking Security Payment Dropbox to be assured your rent or utility payments are secure.